Jewelry Appraisals
Wondering how important your jewelry is? At Khan Diamonds, we provide accurate, reliable jewelry testing services. Whether you want to investigate a family estate or need a quote on a newly purchased piece, we can help you.
At Khan Diamonds, our goal is to make the jewelry testing process easier and less stressful from start to finish. We have the equipment and skills to test stones and various objects. Need a referral test at your insurance company?
We will present our findings in a clear, concise manner. And if you have any questions about your jewelry, we will be happy to provide your answers.
If you are looking for jewelry testing services in Boston, MA, come to us for the answers you need.
We will provide Appraisal with free quotes to find out what items need to be tested.
Fast Insurance Change Rates.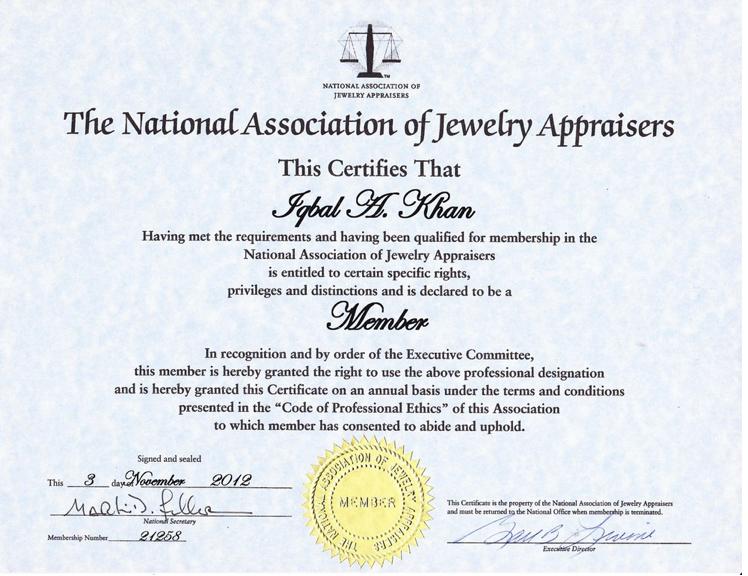 Permanent authenticity of precious metals, diamonds and colored gemstones. Examination performed and number of jewelery items for various purposes and functions.
Portable gemological equipment allows exploration, identification of gemstones and consultation with customers' jewelry on the privacy and security of their preferred location. (e.g.) home, bank, insurance agency or attorney's office, etc. There is no need for jewelry to be missing from your site. There is no need to leave precious heirloom jewelry in a jewelry store for days or weeks at a time. Most Appraisal is made while you are waiting, Quotes are given before the start of the appraisal.
Want to get accurate appraisals for your jewelry? Call or stop by, today for more information!